The Pandemic Impacts on Jordanian Trade & Other Sectors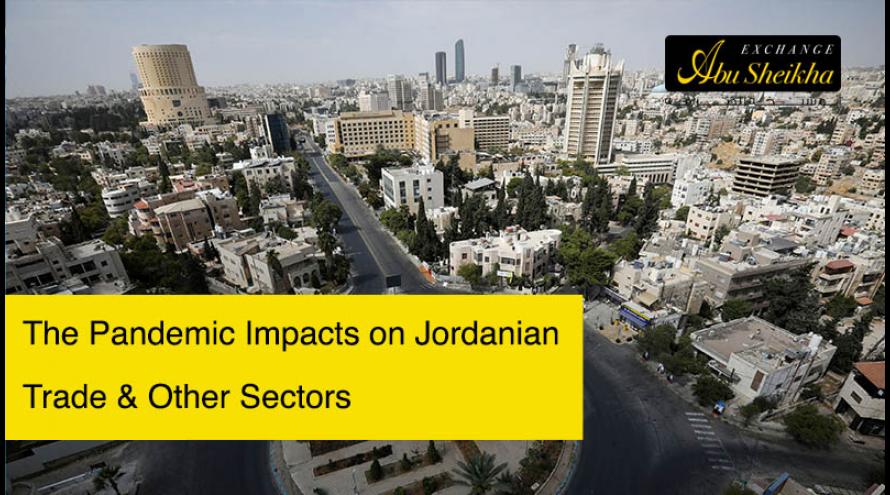 We haven't experienced such a serious situation for many decades, Covid 19. Curfew, social distance, lockdown, travel restrictions, and delaying of all events, all these words are very common in the breaking news now.
Not to mention the critical consequences of the pandemic to the global economy and international financial markets. Stocks across the world were fighting for survival. Several sectors have experienced significant disruption and moved to reduce production.
How we reacted
Well, some countries underestimated the crisis, and then the losses they incurred were tremendous. And other countries responded so quickly to face this tough challenge.
Fortunately, Jordon belonged to the second group. The kingdom has tightened precautionary measures to break the chain of infection, starting from an entry ban on all non-Jordanian travellers, restricting any social or religious events, announcing lockdown, and so on.
Now the government comes up with a strict program to vaccinate all people inside the kingdom, especially people with certain other health conditions and other vulnerable populations. 
It seems that the aftermath of the virus would still be for a while. And no one could expect what happens next. But what about the other implications of coronavirus? How was the economy affected? Could we survive and financially recover from this unprecedented situation?
Absolutely, many questions are popping up in your mind, and we are here to arrive at answers. So, keep reading.
How has trade been affected by coronavirus?
Among the disease mitigation measures, the volume of world trade has slowed down because of mobility restrictions. We saw containers were stuck in almost every port caused a surge in shipping costs. The cost of shipping has quadrupled ranging from $1500/$3000 to $12000 leading to price increases of most imported goods.
 Many factories couldn't get the raw material from suppliers. Which led to hearing the following response frequently: "Sorry, this item is out of stock."
Thus, the International Food Policy Research Institute (IFPRI) reported that food systems in Jordan had experienced a reduction in output by almost 40% since the virus outbreak. This reflected in other industries, where almost all stores were shut down during the lockdown.
At the international scale, the level of global trade in goods fell by 17.7% in May 2020 compared with the same month in 2019, according to a detailed report by the United Nations Economic Commission.
The pandemic is likely to subside, as the recent figures showed. But 65% of experts in the developed economies identified COVID-19 as a risk to their countries' growth.
How has tourism been affected by coronavirus?
It has become clear that no one could leave his home easily, not just his country, where the risks of COVID-19 spread were the only subject that had been high on everyone's agenda.
So, you can imagine now how complicated the situation was and how this sector has sustained losses estimated by $2.4 trillion in 2020, according to the UN World Tourism Organization (UNWTO).
The organization pointed out in a previous report that the pandemic put 100 million tourism-related jobs at risk.
Additionally, IMF research suggested that this sector could not fully recover until 2023.
Locally, Jordon used to bring $5.8bn as annual revenues from the tourism industry, a report issued by the Middle East Institute. The country has succeeded in tackling this crisis gradually. More visitors are getting to flock to see the historical places and enjoy beautiful beaches this summer.
But the number of guests is still less than expected, and that's because the kingdom hasn't eased the restrictions yet; for example, maintaining social distance in restaurants.
How has manufacturing been affected by coronavirus?
As the virus is set to impact global growth, the manufacturers were hurt deeply during this era because of long hours of lockdown, imposing social distance, and some signs of recession. Often, every sector has been placed under extreme stress as these effects are not likely to disappear shortly.
According to the International Labour Organization, Micro and small businesses in Jordan have been so badly hit last year. In the context of the national income, IFPRI published a report saying that the national GDP fell about 23% during the lockdown period.
How have the world coped during the pandemic?
In response, many countries have developed new strategies to keep trade flowing and manage their economies.
These strategies include
Ecommerce and online shopping
The pandemic has driven people to go shopping online. It's safer, faster, and more comfortable. And that's what said by many experts, like UN General Assembly President Volkan Bozkir, as he assured that the trend towards e-commerce and online shopping is likely to continue throughout the recovery from COVID-19. 
Digital transformation
Coronavirus has forced us to avoid personal communication. In workplaces, employees have left their offices to work remotely. In any public place, you have to keep space between yourself and other people to slow the spread of the virus. In most education organizations, you couldn't find students, teachers, or any person; the learning turned to be online, as well.
The only way to communicate with other people and accomplish what you need is through the internet. For example, many business organizations have adopted a software system to keep their members working.
Different payment methods
During the pandemic, people have discovered new paying methods instead of cash transactions, such as credit cards or e-wallets.
Using digital wallets provided by Abu Sheikha Exchange becomes more common across Jordon. It's a smart solution to recharge your phone balance, pay for bills, and purchase anything you want online.
In addition, more employers started to get their employees paid through different payroll services, as a convenient, and safe, salary payment method. Discover more about Abu Sheikha Exchange's payroll services.  
Reducing the usage of paper currency
We all are willing to avoid any possible victors that could spread the COVID-19 infection. There have been many studies proving that coins and paper currency could spread infection.
Abu Sheikha Exchange has introduced many strategies for companies and individuals to encourage them to use its different solutions for paying, like e-wallets, payrolls for employees, and more.
Most importantly, Abu Sheikha Exchange will be adopting a new queuing system  to reduce the use of paper, where customers will receive their ticket number through SMSs, one when they take a ticket, and another one when their turns have come.
It's not just a battle to save lives. It's a battle to be able to cope with the next technological generation. Humankind will survive, but everyone on this planet knows that we are living now in a new world.
Not just in the health, business, or even on the human scale had dramatically changed. The digital transformation, adopting new payment technologies, and being present online have become inevitable, and we have to take an action now.