Abu Sheikha Exchange: 25 Years of Experience and Progress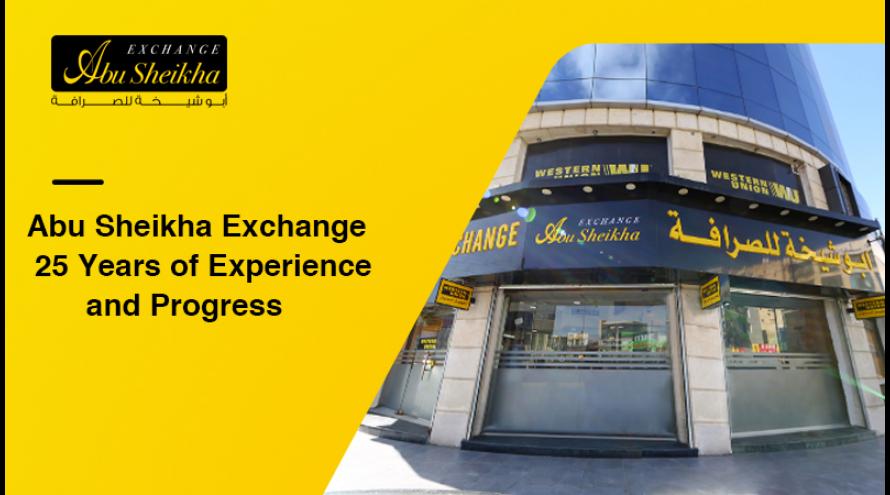 The Beginning of a Successful Story
Abu Sheikha Exchange Company was founded in 1994 by Omar Abu Sheikha, the chairman of board, and Yasser Abu Sheikha, the general manager. It all started as a small currency exchange shop to become one of the most prosperous exchange company in Jordan that covers every aspect in the currency world.
Now, Abu Sheikha Exchange has expanded its branches to include 17 branches across Jordan's main cities, serving thousands of Jordanian and non-Jordanian people to make their life easier.
Unpaved Road Towards Success
Abu Sheikha Exchange has succeeded in establishing a trustworthy relationship with its clients. Now it has become an integral part of its core values.
We've been providing our clients with the best, fastest, safest and most reliable currency exchange services for the past 25 years and we will continue on doing so for many years to come.
Working with these values is a challenge, but our goal is much bigger and it keeps us going forward. We thrive on offering our customers the service they deserve in the best way possible to maintain their satisfaction.
Get The Best Exchange Rate Now..Tap Here to Learn More!
Unstoppable Success
Since Abu Sheikha Exchange has pioneered in the currency exchange world, we've partnered up with the most successful exchange companies and international and local banks to meet our customers needs whenever and wherever they are.
Offering the best quality to our customers on daily basis, we have been accredited ISO 9001 Certification in 2012 for providing cutting-edge quality management system. This made us the first currency exchange company in Jordan to obtain it.
 
Ambition Without Boundaries
We always link our goals to the customers' needs and we seek the most advanced ways to satisfy them. 
Not only that, but also, we make sure our integrated technologies and tools are the latest and newest to make it easier for our employees to serve the customers. We work on expanding our branches to reach anyone in Jordan and meet their needs with ease and comfort.
Transfer Your Money in Minutes by Western Union..Tap Here to Learn More!
A Wide Range of Pioneering Services
Our service is not limited to money exchange, but it also includes a full range of financial services provided professionally in every branch. Dealing with various, well-known partners, we try to make it easier for our customers to get their financial duties done within few minutes and from any place.
We adopted the best money transfer methods, online payment system, and other services that help in reducing the gap found in the exchange currency industry in Jordan.
Send Money with The Best Rate..Tap Here to Learn More!
Our Employees are Our Professional Partners
At Abu Sheikha Exchange, we always make sure to carefully choose the most qualified staff to reflect the core values of the company. We seek to sharpen and develop our employees' skills to be able to keep up with the latest technologies we utilize and provide an excellent service to our customers.
We Are Always Ready to Serve
Because we know how important currency exchange and money transfer can be to our customers, we make sure that our services are available all week long across our 17 branches in Jordan, including holidays and weekends until midnight. 
Future Vision
We always seek to keep in touch with our clients, hence we provide multiple channels that they can communicate with us to share their suggestions, compliments, and more. 
Moreover, we will continue on integrating the newest technologies in the currency exchange industry to keep our pioneering position and provide you with the expected service. 
Abu Sheikha Exchange, Your Trusted Partner