Your Guide to Dinarak E-wallet Withdrawal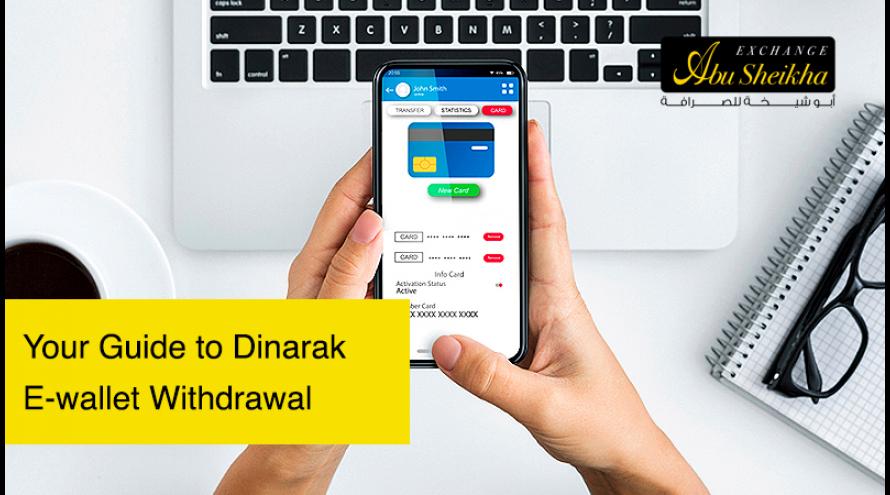 Dinarak is an electronic wallet that helps its users to complete a wide range of financial transactions, including money transfer, money withdrawal, online shopping, digital payments, and more.
It is one of the most used mobile payment solutions in Jordan as the users are not required to have a bank account, which makes it more convenient to use.
In this article, we will show you how to withdraw money from your Dinarak e-wallet step by step. Also, we will give you some tips that you might need when dealing with Dinarak app.
How to Withdraw Money Using Dinarak
Withdrawing the money you have in Dinarak wallet can be done in two different ways, either through the nearest Abu Sheikha Exchange branch or any ATM. 
If you want to withdraw money from the nearest branch please take the following steps:
Open your Dinarak app

Choose the "Cash Out" option from the menu

Type the amount you want to withdraw and the agent's number in the designated fields

Click on the send button

The agent will receive a notification with the pending withdrawal request on their app

Then, he/she will accept the request and give you the cash (depending on the availability of cash)
If you want to withdraw money from an ATM, please take the below actions:
Visit the nearest ATM

Choose "cardless transaction through JoMoPay"

Click the "Cash Out" service

Type your phone number and the amount of money needed

A one-time password for the withdrawal will be sent to your phone via SMS

Enter PIN code and one-time password on the ATM screen

ATM will release the amount of money requested
What is my Limit when Withdrawing the Money?
If you are using an ATM, you can withdraw up to 100 JOD per one transaction. Your maximum transactions per day are 4.
You can check the limits of withdrawal on Dinarak website or at the agent's location.
How Can I Check my Balance?
Simply, you can check your Dinarak balance through the application or you can call customer service to help you out. Dinarak's customer support is available 24/7, so you can contact them anytime you want and get help to know your balance or any other information regarding your account and service.
What Can I do with my Dinarak E-wallet?
Dinarak provides a group of flexible and fast financial services that facilitate clients' everyday life.
Transfer money to other Dinarak accounts anywhere in the country

Dinarak has partnered with eFAWATEERCOM to allow you to pay for different services

Purchase goods and services at different retailer stores and merchants 

Withdraw money from any agent location or ATM 

Top up your Dinarak account to use whenever you want

Check the balance available on your Dinarak account
How to Transfer Money using Dinarak?
In order to transfer money using the Dinarak app, you need to make sure that the recipient uses the application too.
Open Dinarak application

Choose the "Money Transfer" option from the menu

Fill in the required information for your money transfer request

Click proceed

A confirmation message will be shown to you and an SMS will be sent to your mobile phone
Visit Abu Sheikha Exchange's Nearest Branch
If you wish to enjoy the e-wallet services from Dinarak, all you have to do is visit Abu Sheikha Exchange branches, and we will take care of all the procedures. You can find us in 17 different branches across Jordan! We are available all week, including weekends and holidays until midnight.