Sending Money to USA: 5 Best Ways if You Live in Jordan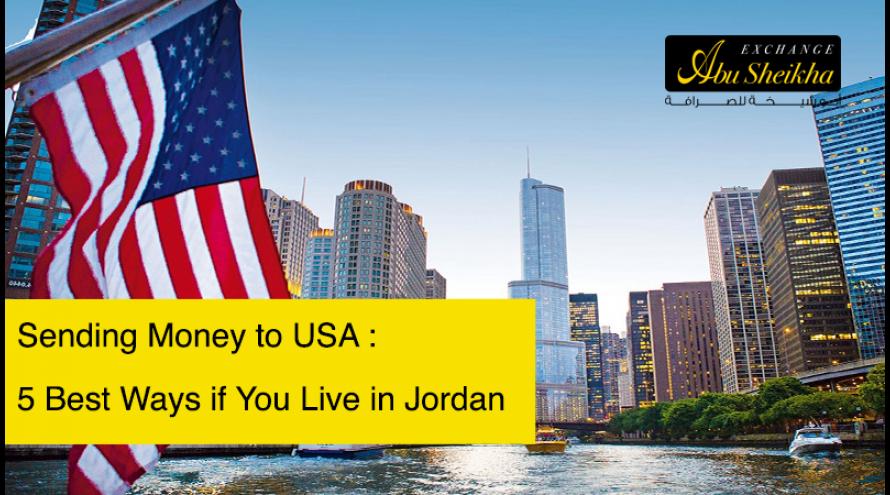 Do you have a relative or a friend who lives in the States? Do you study there and want to pay the tuition fees? Is your business partner based in the States? 
Well, there are many reasons you need to transfer money to the US, but do you know the best way to do so without paying too much? 
Without the current technologies that facilitate the process of money transfer, our lives would have been much harder. Imagine your loved one is in need of financial aid abroad, but doing so in a traditional manner might take days, weeks even. Thankfully, that is not the case anymore!
Digitalization is changing every aspect of our life, including the financial field to make people's life easier and more convenient.
In this article, we will go through 5 easy ways to send money from Jordan to America.
International Bank Transfers
It is simply using your bank account in one country to send money to another bank account in another country. This can be done through online money transfers or by physically visiting the branch and get it sent through one of the employees there.
You need to check with your bank if they provide online services by calling their customer service or by visiting their website. Also, you need to check the foreign currency rates provided by your bank and compare them to other money transfer service providers to get the best value.
Benefits: 
Sending money through a bank you trust

Getting personal assistance from employees
Money Transfer Companies 
Sending money to the US through money transfer houses is one of the most considered and favorite methods by users. All you have to do is go to the nearest money transfer service provider and determine the method you want to transfer money with. 
Money transfer companies use many ways to get the funds delivered, including Western Union's services, direct bank deposit, global inbound and outbound transfers, and more.
If you are looking for an easy and simple way to transfer money to America, Abu Sheikha Exchange provides a wide range of money transfer services in Jordan that will get your money delivered easily, securely, and conveniently.
Benefits:
Fast and easy to use

Good foreign exchange rate

Chosen by millions of users
Western Union Services
Western Union is the biggest and most trusted money transfer service to send money to the US. If you have cash and want to send it to the recipient securely and instantly, Western Union will grant you that. Many people who don't have a bank account, resort to this service to get the money moving. All you need to have to complete the transaction is your identification card, the cash, and some of the recipient's information, such as full name and address.
Western Union has around 500,000 agents' locations around the world which makes it very common to find a branch everywhere you go in Jordan. 
Abu Sheikha Exchange provides reliable Western Union money transfer services to America across 17 branches in Jordan.
Benefits:
You don't need to have a bank account

Instant and easy to use

You can find a branch or agent anywhere you go
Common Reasons to Send Money to the US
There is a wide range of reasons people need to send money to the United States from Jordan. Many people started to invest in the states and having their relatives and friends traveling there, so the possibilities are plenty:
Investing business in the US

Paying for tuition fees

Paying for rent and bills

Sending money to business partners and employees

Having wedding celebrations 
Visit Abu Sheikha Exchange's Nearest Branch
If you wish to transfer money anywhere in the world at the best rate, all you have to do is visit Abu Sheikha Exchange branches, and we will take care of all the procedures. You can find us in 17 different branches across Jordan! We are available all week, including weekends and holidays until midnight.