How to Send Money without a Bank Account in 4 Easy Ways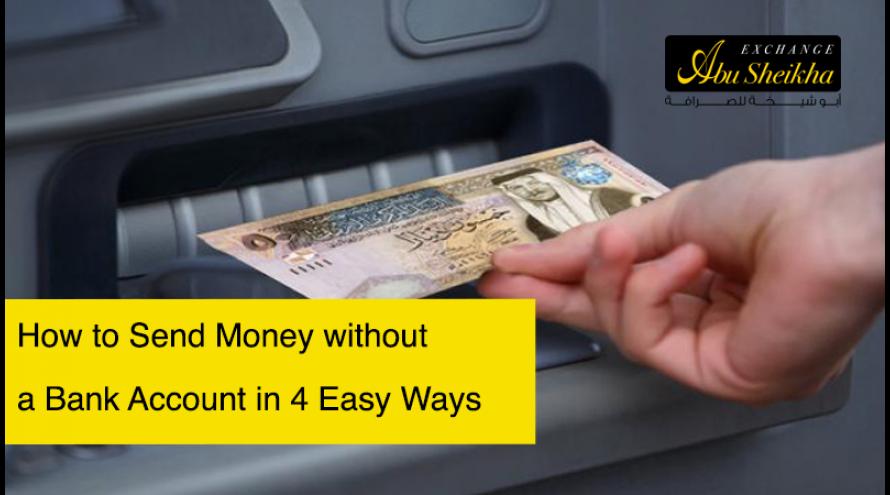 There comes a time in your life where sending money to someone else becomes a necessity; either it is a friend, a family member, or a business partner. When you think about money transfers, the first option that pops up in your mind is your bank account.
But what if you or the payment recipient don't have a bank account? That might be a problem, especially if he/she doesn't live in the same city or country and the option of handing them cash is impossible.
So you might wonder how you can send money without a bank account to whoever you want, wherever they are.
The answer is pretty easy - we bring you 4 simple and fast ways you can use to send money anywhere without paying a huge fee.
Money Transfer Houses
There are many money transfer services providers that allow users to send cash across cities or countries, and get them delivered in cash as well to the recipient (cash-to-cash service).
This option comes in handy if you feel more comfortable interacting with humans than using machines or technologies to transfer money.
The payment is usually received on the same day and the recipient can pick it up from the agreed-upon location.
If you are searching for a reliable money transfer house in Jordan, Abu Sheikha Exchange provides a wide range of money transfer services whether personal or commercial. 
Send Money to a Bank Account Instantly Using Western Union 
Western Union is a pioneer in money transfers worldwide, with more than 525,000 agents located in more than 200 countries. You can easily and securely send money anywhere by visiting one of the branches or agents' locations and follow the instructions of the employees there.
You don't have to have a bank account or a credit card, all you need is the cash you want to send and your identification card. Usually, the transfer is completed instantly and the recipient can pick up the cash within a few minutes or have it sent to their bank account.
Abu Sheikha Exchange provides the fastest and most reliable Western Union services in 17 different branches across Jordan.
Prepaid Debit Cards
If you want to have a debit card without dealing with bank accounts, we recommend using prepaid debit cards. These cards are usually tied to checking accounts, instead of bank accounts. You basically charge the card with the needed money and use it the way you want. 
What makes it one of the best options, is that it can be easily used to send money anywhere and pay for purchases and bills.
Prepaid Cards vs. Bank Accounts
Unlike bank accounts, you can have a prepaid card without a minimum balance

Unlike bank accounts and credit cards, you can't spend more than what you already have in your prepaid card

No credit check on prepaid cards
E-wallets
Creating an e-wallet account doesn't require a bank account which makes it one of the most convenient methods to send money anywhere. 
However, there are a few notes you should know beforehand:
The person you are sending the money to should use the same e-wallet app

You can also use it to pay on the go or online

They are highly secured and no transactions are made without your authentication
How to Choose a Transfer Method without a bank account?
Deciding which of the above options is best for you, you need to consider a few things before making your final choice:
Time
You need to compare different services and pick the fastest out of them. For example, prepaid debit cards might take longer than using transferring funds through Western Union.
Convenience

 
It is important to have a convenient and easy to use money transfer service that is able to complete your order in the shortest time with the fewest steps.
Prices
Compare between different money transfer service providers will enable you to get the best deal out there. Some services differ in prices and quality, so make sure to scrutinize them thoroughly.
Security

 
Make sure your data is protected and encrypted when dealing with a money transfer service.
Tips to keep your Transactions Secured
Make sure you provide the accurate sender and recipient data before completing the transactions

Choose a trusted and well-known service provider

Do not send money to strangers and suspicious authorities

When using e-wallet and money transfer apps, make sure no one is watching over your shoulders
Visit Abu Sheikha Exchange's Nearest Branch
If you wish to transfer money anywhere in the world at the best rate, all you have to do is visit Abu Sheikha exchange branches, and we will take care of all the procedures. You can find us in 17 different branches across Jordan! We are available all week, including weekends and holidays until midnight.