5 Ways to Send Money from One Account to Another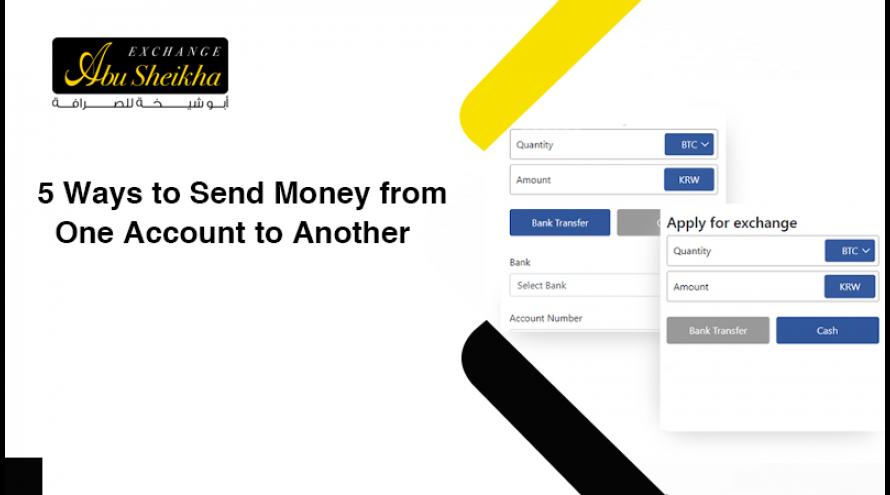 To transfer money from one account to another, you have a variety of options. Most of them are digitalized and can be completed easily and securely. Today, we will talk about the most used ways to transfer money between accounts. Hence, you get to choose the most suitable option for you to use in the next money transfer.
Let's get started!
Online Currency Converter Services
The converter rates are international rates, for final rates please visit your nearest abusheikha exchange branch.
Moving Money Between Personal Accounts
When you need to transfer money between two different accounts that you own, it is called bank-to-bank transfer. This digital payment works as an automated clearing house (ACH). 
Many banks offer this service for free if both accounts are existing in the same bank. 
All you have to do is linking both accounts. This can be done either online or through visiting the bank in personal, depending on the way your bank works. Some banks that don't have a strong online presence will require you to pay a visit to get your account linked.
What Information You Need to Get Your Accounts Linked
Usually, it needs your account number, routing number, and the necessary information to prove you are the owner of both accounts.
Once the linking is done, you can transfer money easily and safely between both accounts. 
The transfer usually takes few working days to be done.
Sending Money to a Different Bank Account
In case you want to transfer money to someone else with a different bank account, wire transfer is your best option.
You will need the same information mentioned above: account number and routing number, in addition to some details about the recipient and their bank. It will take a few business days to complete the transaction, depending on the location and amount of money.
Transferring Money Using Apps
Some banks are now offering applications where you can complete money transfers with few clicks. If your bank offers this option, you will have to create an online account and link it to your bank account.
Go Traditional & Write Checks
Writing checks is not dead.
Some people rely on it to send money to other bank accounts. Although, it requires a lot of paper work, it's still the favorite option for some people. You simply need to write a check, giving the right information; and then deposit it at your bank.
You need to know that checks are not the best option if you want to send the money quickly. It takes more time than usual, up to a week.
Abu Sheikha Exchange: Your Best Money Transfer Provider
If you want to send money hassle-free, whether to your bank account or a different account, you can trust Abu Sheikha Exchange. Our money transfer services cover all your needs with the best prices ever.
You can find us in 17 different branches across Jordan! We are available all week, including weekends and holidays until midnight.
So, whenever you need to send money anywhere, you will find us at your command.
Abu Sheikha Exchange, Your Trusted Partner.