Your guide to send money from Jordan to Egypt via Abu Sheikha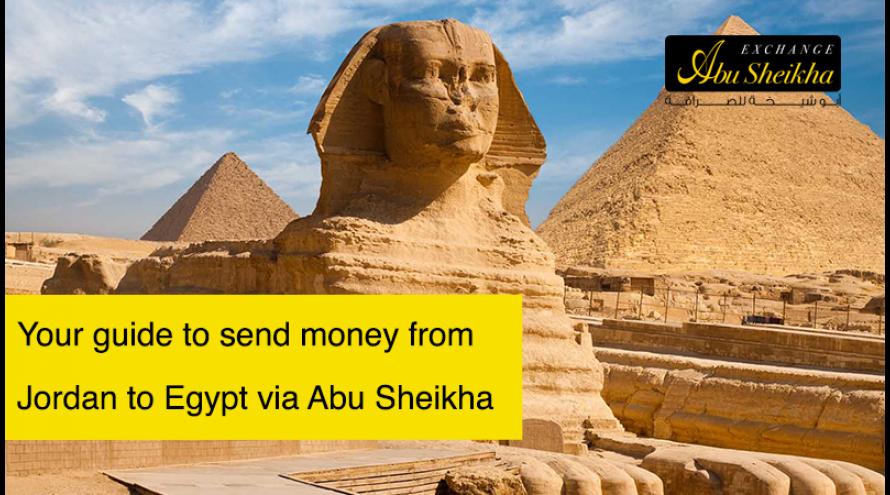 Sending money from Jordan to Egypt has gained great importance, as the remittances sent annually from Jordan to Egypt are estimated at tens of millions of dollars.
 
You may need to send money to your family in Egypt, send salaries for your employees to their Egyptian bank accounts, send commercial remittances for your contracts with suppliers and exporters, or for other personal purposes such as tourism, treatment, and study.
The methods of sending money from Jordan to Egypt through Abu Sheikha Exchange vary between sending cash transfers to an Egyptian bank, direct depositing to bank accounts, or relying on international money transfer services such as Western Union, and other different money transfer methods.
But with the variety of money transfer methods, you need to choose the method of sending your money accurately, according to your needs and the desired method of receiving money, in addition to the cost and time it takes to complete the transfer process.
Choosing the most appropriate method of money transfer guarantees that you complete the transfer quickly, accurately, and safely, and with the best exchange rate and transfer cost, so in this article we will explain the different methods of transferring money from Jordan to Egypt, and the best way to ensure transferring your money at the best cost, fastest time, and complete safety.
Cash Transfers
Cash money transfer is one of the most popular transfer methods, as you do not need to have a bank account, and the transfer recipient also does not need any bank account. Sending cash transfers is also the best way to send large amounts of money easily.
You can send cash transfers to Egypt by heading to the nearest Abu Sheikha Exchange branches, depositing the transfer value, completing the transfer request data and the transfer recipient's data, and communicating with the transfer recipient to coordinate the receipt of the transfer.
You can send the transfer to one of the Egyptian banks that we cooperate with, Alexandria Bank, Cairo Bank, Al-Ahly Bank and Bank Misr, and the recipient withdraws his money in cash without the need to open a bank account in this type of transfer.
 
This method is easy, and does not need to have a bank account, whether for the sender or receiver, and the sending process usually does not take long, but some service providers set a maximum value of the money transfer sent, so it is necessary to communicate with the service provider to ensure the maximum amount sent.
If you are looking for a reliable cash money transfer service provider from Jordan to Egypt through various money transfer services, then Abu Sheikha Exchange is the best choice. Discover our money transfer services.
Direct Deposit into a bank account
If you want to send money from Jordan to Egypt directly to a bank account, you should in this case choose the direct deposit method, by which you send cash money to the Egyptian bank account, even if you do not have a bank account.
This method can be used to transfer money to your family's bank account in Egypt, to pay for your university studies, or for your tourist trip, to pay for treatment, or to send money to the suppliers' accounts or to your temporary employees in Egypt.
All you have to do in this case is to know all the details of the bank account receiving the money, such as the International Bank Account Number IBAN, the name of the bank, the SWIFT Code and the full name of the recipient, then go to one of the service providers and pay the amount to be sent, and fill out the transfer request data.
These transfers do not need the recipient to withdraw the money in cash, as the money is deposited directly into his bank account, and this method also does not require you to have any bank account, as it is made with the approved proof of identity.
 
You can also send your direct deposits to bank accounts in Egypt through Abu Sheikha Exchange branches, which cover all over the Kingdom, to enjoy the best commission and the fastest service.
Western Union
Western Union is one of the most popular money transfer services providers in the world, and its agents are spread in Egypt and Jordan, so it is one of the options strongly offered to send money from Jordan to Egypt.
Western Union has provided its financial services for more than 160 years in 200 countries around the world, and its agent branches reach more than 500,000 branches, covering the most important cities around the world, and millions of people depend on it daily to send and receive money quickly and safely, whether their transfers are personal to family, friends, or even trade remittances to business partners and suppliers.
Through Western Union services, you can send your money as cash transfers, or direct deposits into bank accounts, by going to one of the branches of Western Union agents and filling out the transfer request and depositing the amount of money to be sent to Egypt, leaving the recipient's data or the bank account and receiving the transfer code MTCN in the case of sending a cash transfer.
Once the transfer code is received, it must be shared with the recipient. He will not be able to receive his money unless he shows this code to the employee of Western Union agent in Egypt, in addition to showing the approved proof of identity.
Western Union services are completely safe and reliable, and the transfer is usually completed within a few minutes, so it is one of the fastest money transfer methods in the world.
 
If you want to send money from Jordan to Egypt quickly and completely securely, head to the nearest Abu Sheikha Exchange branch and discover our Western Union services.
2 Dinars fees Only! Send your remittances to Egypt via Abu Sheikha Exchange
Send your money as a cash transfer or direct deposit up to $1,000 from Jordan to Egypt, with a commission of 2 dinars.
You can send the transfer from the nearest Abu Sheikha Exchange branch, and transfer it to Banque du Caire, Alex Bank or Bank Misr in the Arab Republic of Egypt, and the recipient can receive his money in cash or in his bank account.
 
Abu Sheikha Exchange has 17 branches covering all over Jordan, and works daily until midnight, and our branches work on weekends and official holidays.
 
Abu Sheikha Exchange always offers the best commissions and features. To take advantage of Egypt's offers, follow Abu Sheikha Exchange Facebook page.
 
The offer is valid during the summer.

September's offer: send your transfer to Egypt at Banque du Caire for only 2 dinars and get your gift.

If you face any difficulty in receiving money from the mentioned banks in Egypt, please contact Abu Sheikha Exchange directly on: 5508081