You can open a bank account in Egypt through Abu Sheikha Exchange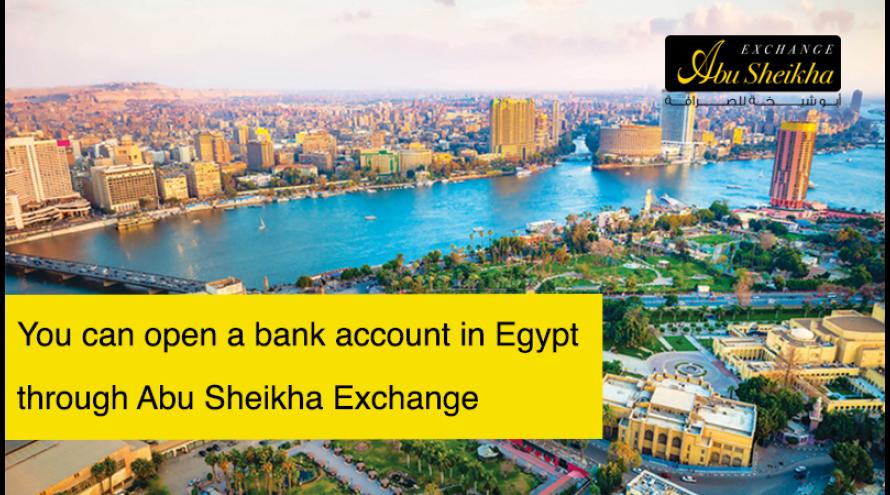 Or you bought a property in one of the new Egyptian cities and need to pay the monthly installments and periodic payments through a bank account?
 
Or would you like to complete some commercial transactions in Egypt and need a local bank account to complete the payments?
 
For these and other reasons, you may need to open a bank account in Egypt, and as opening a bank account in Egypt requires personal attendance, your residency in Jordan is an obstacle in front of having an Egyptian bank account without traveling specially to complete the process.
 
All these troubles have become a thing of the past, as Abu Sheikha Exchange cooperates with 2 of the largest Egyptian banks, to enable their customers residing in Jordan to open an Egyptian bank account, without the need to travel outside the Kingdom.
 
Service Description


 
It is a service through which some Egyptian banks allow to open bank accounts through Jordanian exchange companies, to facilitate the sending process to their citizens residing abroad.
 
This service includes opening a bank account with Alexandria Bank or Cairo Bank, With the possibility of charging the account with deposits, to charge the account balance.
 
Alexandria Bank


 
It is one of the oldest Egyptian banks, founded in 1957, and it is one of the private sector leading banks in Egypt, as it has been acquired by the Italian Intesa Sanpaolo Group since 2007.
 
The bank has 176 branches covering all the Egyptian governorates and their main cities, to be one of the largest networks of private or multinational banks in Egypt, with more than 4,500 employees serving more than 1.5 million clients.
 
Cairo Bank


 
It is one of the largest and oldest Egyptian public sector banks. It was established in 1952, to serve a wide base of individuals and organizations, and to provide banking services to the Egyptian government.
 
The bank's branches exceed 200 branches covering all over Egypt, and the bank offers a variety of digital banking services in addition to its services provided to customers inside the branches and ATMs located in various governorates and cities of Egypt.
Why do I need to open a bank account in Egypt?


 
Your needs to open an Egyptian bank account vary, whether to manage your commercial financial transactions inside Egypt or to support family and friends, and these are the most popular reasons:
 
To support the family and save money: You may need to send money to your family regularly after receiving your monthly salary in Jordan, and opening a bank account may be an ideal solution for managing family expenses and paying for their needs, in addition to saving part of the salary in a savings account to enjoy the high return on savings.
 

To buy properties: If you want to buy a property in one of the new cities or promising real estate projects, you will have to pay monthly installments, quarterly payments, or other financial obligations related to the purchase of the property, and having an Egyptian bank account is an effective solution to manage these payments.
 

To pay suppliers' dues: You can always keep your money in your Egyptian bank account, to be ready to make quick payments to suppliers in Egypt, the speed of payment may severely affect the supply network supporting your business, so you will not have the luxury of any unexpected delay in the arrival of the remittance to suppliers.
 

To pay bills and purchases: You may want to pay your family's bills in Egypt and manage them remotely, instead of burdening them with waiting for your remittance or accumulating bills. You may also prefer to buy some products in Egypt and send them to your family or friends, in both cases, ensuring that you have a bank account in Egypt helps you easily complete payments through the digital services linked to the account.

 
Advantages of opening a bank account in Egypt through Abu Sheikha Exchange
 
Abu Sheikha Exchange provides many services to the Egyptian community, through cooperation with Cairo and Alexandria Banks, which are characterized by the following:
A huge network of branches and ATMs covering all major governorates, cities and districts of Egypt.

Powerful digital banking services.

A wide range of banking services for individuals and organizations, including current and savings accounts, cards, investment certificates, and various financing, savings and investment solutions.

Reliable banking organizations with a long history of work and success within the Egyptian market and in the regional and international markets.
 
And as opening and charging accounts is done through Abu Sheikha Exchange branches, when using this service, you enjoy the following:
 
Save time and effort, as opening an account does not require traveling specifically to Egypt.

Get a professional, reliable and secure service, thanks to Abu Sheikha Exchange's history of providing financial services.

The possibility of charging the account with funds from Abu Sheikha Exchange branches located all over the Kingdom.
 
How to open a bank account in Egypt through Abu Sheikha Exchange.. step by step


 
Do you want to open your Egyptian bank account now? All you have to do is to go to the nearest Abu Sheikha Exchange branch and do the following steps:
 
Submit an application to open an Egyptian bank account.

Choose the preferable bank (Alexandria Bank or Cairo Bank).

Provide the employee of Abu Sheikha Exchange Company with the passport, the Egyptian identity card, and the Jordanian residency.

Pay 5 dinars as a fee to open the account, and charge the account with $100.
 
After the customer signs the account opening application, it takes from 1 to 5 working days to open it, according to the bank in which the account is requested to be opened.
 
After opening the account, Abu Sheikha Exchange Company contacts the customer to receive the account details.
Find your nearest Branch and open your account in 4 steps.
For more information call 065508081