What is the Maximum Limit for a Cash Deposit?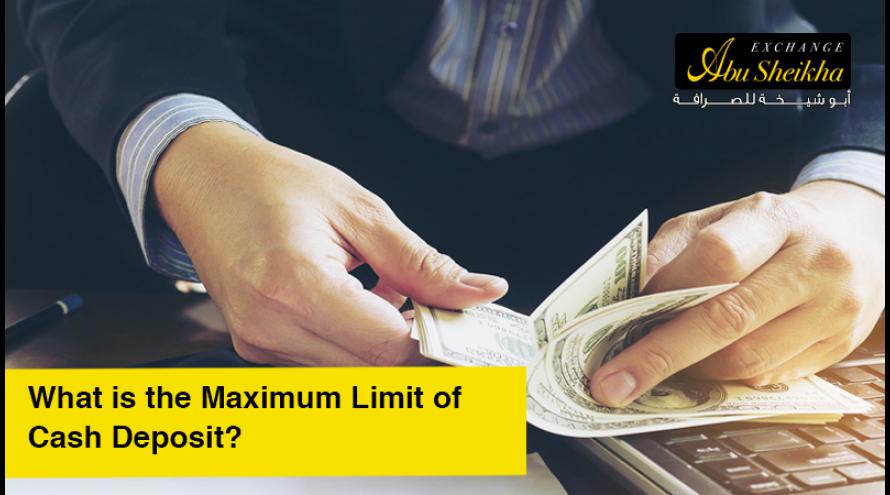 Cash deposit in banks is a process of adding funds into a bank account through ATM machines or the bank itself. 
Many users get confused about the maximum limit of the cash they can deposit in one time. In some cases, they go to deposit a huge payment that gets rejected because it exceeds the limit.
If you are wondering what the maximum limit of depositing cash is, this article is for you!
How to Deposit Cash
ATM machines
ATMs (Automated Teller Machines) have become widespread everywhere; in streets, shopping places, pharmacies, or other public places.
You can use a credit/debit/prepaid card in order to deposit the required amounts immediately to other bank accounts. 
There are some modern ATMs that allow depositing cash without using a card and this happens by choosing the "services without card" option that is available in the machines and it only requires the number of the bank account into which cash will be added and the number of your mobile phone.
You can use cash deposit in paying credit card dues, loan installments, paying bills, or any other service.
A receipt will be printed automatically, and then you can take the receipt. 
But there are some instructions that need to be followed and some points to pay attention to when depositing cash:   
ATMs don't accept coins

There is a limit of cash deposit done through ATMs and it differs from one bank to another 

ATMs don't accept torn or folded paper money

You should read the instructions on the screen of the ATM regarding the accepted currency categories and the number of paper money accepted each time.
Bank Branches
Banks compete to spread on a wide scale by establishing branches in different places in order to reach the largest number of customers, fulfill their needs, and provide them with various services that include depositing cash.
Customers can deposit cash in one of their bank branches by getting a number, filling a deposit form prepared for this process, preparing the national identity and finally depositing the amount.
The main difference between this service and deposit cash through ATMs is that many banks charge fees on cash deposit service in order to encourage customers to use ATMs and manage crowds and waiting time in their branches.   
What is the Maximum Limit for a Cash Deposit?
There is no clear maximum limit for cash deposit since it depends on several factors:

Each country has its own bank rules.

Every local bank or branch of an international bank follows its own rules.

The size of the banking sector and the rules of central banks in each country have their privacy.  

The ability of using modern ATMs or modern and flexible banking system.
There are many other important notes regarding the maximum limits and they are: 
Deposit cash from a personal account can be done for persons or institutions without limits through bank branches where there are special sections dealing with large deposits. 

There aren't maximum or minimum limits for depositing foreign currencies like Dollars or Euros.