Western Union: Is It A Safe Platform to transfer money?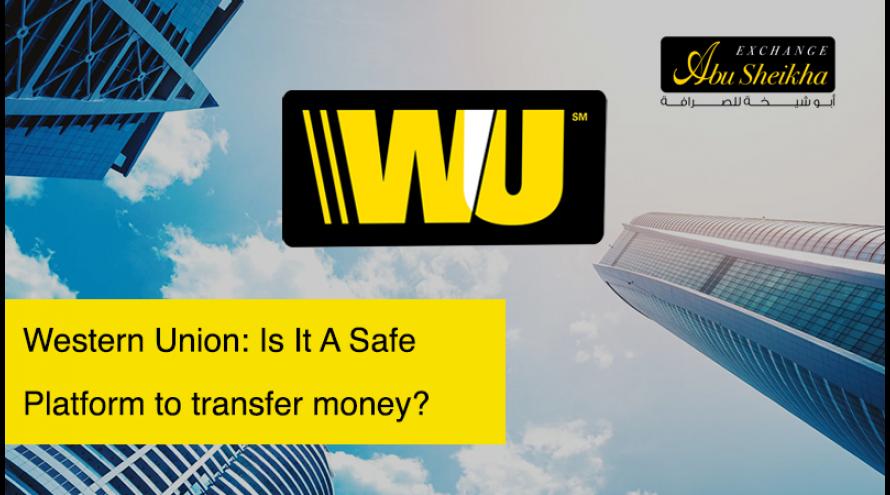 Western Union is known to be a pioneer in providing money transfer services for over 160 years, across 200 countries worldwide. Many people of different ages and nationalities rely on the company to send/receive money to/from their family members, friends, or business partners.
Western Union has 500,000 agents around the world and they are facilitating the usage of the company's services to be more available to anyone who wants to send or receive funds, anywhere, at any time.
Given the long history of the company's operation, Western Union has put strict policies and procedures to secure the finances of its customers.
If you are questioning the safety of your money while using the services of the company, this article is for you. We will guide you through the measurements taken by the company so that you can use it confidently and worry-free.
Is It Safe to Pay via Western Union?
The company has leveraged digital technology to raise its security standards and put an end to fraud cases. Western Union is able to detect any suspicious activity within seconds and prevent money theft, using big data and other technical tools. 
Let's discover the security measurements taken by WU to protect your money:
Tracking number (MTCN) verification: It is used by the recipients to pick up money; and without it, users can't withdraw any cash. Only the sender knows this number and he/she should directly inform the recipient about it to make sure it is delivered to the right person.
Custom Algorithms: Those advanced algorithms are used to instantly identify and prevent illicit transactions from happening.
Courtesy Callback Program (CCB): Western Union might contact senders of high-risk transfers to interview them to prevent fraudulent activities.
Interdiction Program: Blocking suspicious and fraudulent individuals from using the company's services
Fraud Hotline: Enabling users to complain and instantly receive help from our fraud team. This service is available in 85 countries.
Educational Materials: Western Union provides many educational materials including newsletters and alerts to increase the agents' and consumers' awareness regarding fraudulent activities and protection measurements.
Can You Get Money Back from Western Union?
If you discover that you are a victim of fraudulent activities, you can immediately visit the agent's location or the Western Union branch you sent the money from and ask to complain about the incident.
If the money wasn't picked up, you will receive a full refund of your money. But if the money was already picked up, Western Union recommends you file an official fraud claim to the legal authorities. 
Western Union reviews all submitted fraud related complaints carefully to decide which ones are permitted. 
Scammers are very smart when it comes to inventing new fraud tactics, thus it is better if you take your precautions before sending money away.
Please consider the following tips to reduce the chances of being a victim of fraud:
Make sure you personally know the recipient

Do not send your bank account information to anyone unless you trust them

Do not send money in advance to any suspicious organization, entity, or person

Avoid sending money to untrusted ecommerce or dating websites
How Does Western Union Help When a Fraud Claim is Filed?
After filing a fraud complaint through an agent's location or WU branches, the company collaborates with law enforcement agencies to help them investigate and prosecute criminals who are accused of fraudulent activities. Those individuals are permanently blocked from using WU services around the world.
How Long Does Western Union Hold Your Money For?
If you have complained about a fraudulent activity and the money wasn't picked up by the scammer, you can claim the funds within 45 days from the date you transferred the money.
Make sure you pick up the money within the determined timeframe or it will be impossible to claim it after that. It is better to stay on the safe side and get the money as fast as you can.
All you need to do to claim your money is:
To visit the agent's location or WU branch 

To bring your national ID, transfer details (MTCN, sender's and recipient's name, address, and location)

To give the cancelation reasons to the employee/agent 
In most cases, you are allowed to pick up the money within minutes but if you don't, you still have 45 days to do so.
Visit the Nearest Branch
If you wish to exchange currency at the best rate, all you have to do is visit Abu Sheikha exchange branches, and we will take care of all the procedures. You can find us in 17 different branches across Jordan! We are available all week, including weekends and holidays until midnight.
Western Union takes a lot of precautions and measurements to make sure the money transfer is safe and instant. It uses big data, advanced algorithms, and other technologies to secure your transactions and data so that you can enjoy the service hassle-free.
 If you become a victim of fraud, Western Union helps you reclaim your money within 45 days if it wasn't picked up by the individual committing the fraudulent activity. However, make sure you only send money to people you trust.