Want to Pay Bills Online? Here are 7 Key Digital Wallet Features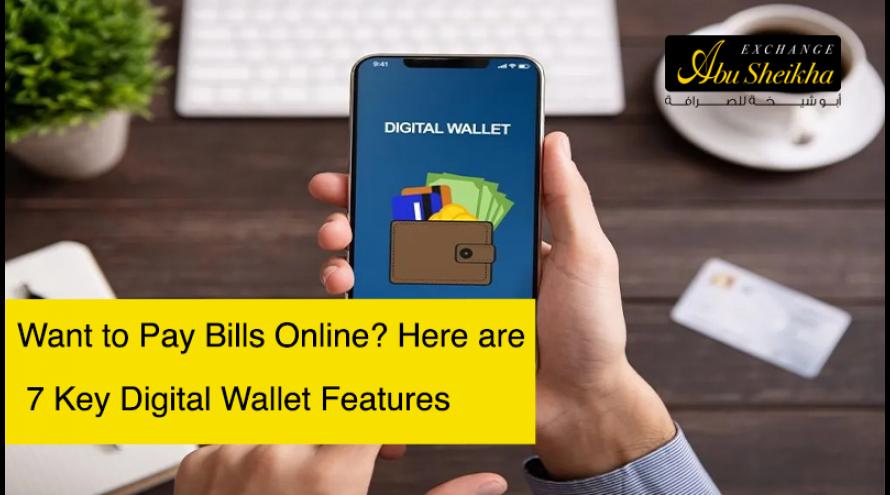 The spark in mobile payment services has been increasing for several years now, allowing people to pay bills and more online with such ease and convenience. 
With this revolution in mobile payment, the users are always expecting the best because their reliance on physical wallets and traditional payment methods are gradually decreasing.
The first time the mobile payment was successfully used was in 1997 when Coca Cola invented the vending machine that allowed users to pay for the beverage by sending an SMS message. Also around this period of time, Mobil invented an RFID device that helped users to pay for fuel bypassing a device near a sensor applied on the pumps.
This innovation caused a revolution in mobile payments later on. Now we can pass our mobile phones or scan QR codes to pay for things. 
In this article, we will show you 7 important features that you need to consider before dealing with a certain digital wallet service provider.
Sending Money Instantly 
Unlike cash and other forms of payments, you can use digital wallets to transfer payments instantly. So instead of spending hours or days, you should choose a digital wallet that enables swift transfers that take minutes or even seconds.
Now that the pace of life is fast, fewer people are expecting to wait for so long to get their payment done. It has become inevitable to get funds instantly.
This option is very practical, especially if you want to send money to another country or city where handing cash is impossible. Some mobile wallets allow international money transfer in no time.
Pay Bills Online
One of the most important features of mobile wallets is the possibility to pay your bills online, such as utilities, accommodations, educational fees, etc. 
Paying your bills can be the least preferable task and you'd just love to avoid it. But with the new mobile payment technologies, you can do that wherever you are, at any time with only a few clicks.
This effortless payment is substituting cash and the time and effort wasted on paying bills traditionally.
Mobile to Bank Payment
A digital wallet should help you to directly send money to bank accounts. 
This feature brings so many benefits for the users who have a friend, family member, or business partner outside the country and want to transfer payments to their accounts. 
Also, it is important if the recipient doesn't have the same digital wallet or doesn't use mobile payment services, so you still have the option to send money to their bank accounts.
Virtual Money Management
People are abandoning physical cash and cards because they are more prone to be lost, forgotten, or stolen. The mobile wallets allow users to save their credit/debit card information and pay using the mobile phone. 
This is a more practical and easier money management solution to prevent loss of cash/card, since the card information is encrypted, protected, and secured with the highest security standards.
Contactless Technology
More retail stores are investing in various payment solutions to make it easier for buyers to pay the way they prefer. 
Contactless technologies simply allow users to pay at retail stores through near-field communication (NFC) or QR-code.
NFC is a remote technology that enables users to pass their smartphones near a POS device to pay for any of the purchased products/services.
QR codes are scalable codes that users can scan using their smartphone camera, and then the smartphone will detect the code and interpret it to open a certain website page where the users can complete the payment.
Rewards & Discounts Programs 
Many digital wallet providers offer attractive reward points programs and discounts to their users. The customers can use those rewards and offers to buy from their favorite shops and retail stores.
Through the mobile wallet, you can receive and manage your reward points and discounts and make the best out of them to buy things you love.
Security Standards
Security and data protection are two of the most critical aspects of a digital wallet. You need to choose an e-wallet that applies international security standards and data privacy policies. Thanks to the advanced security technologies, digital wallets are highly protected with encryption, passwords, authentications, and security questions, to name a few.
These security capabilities increase your safety and protect you from any fraudulent activities or cyber-attacks.