Steps to verify "Dinarak" E-wallet application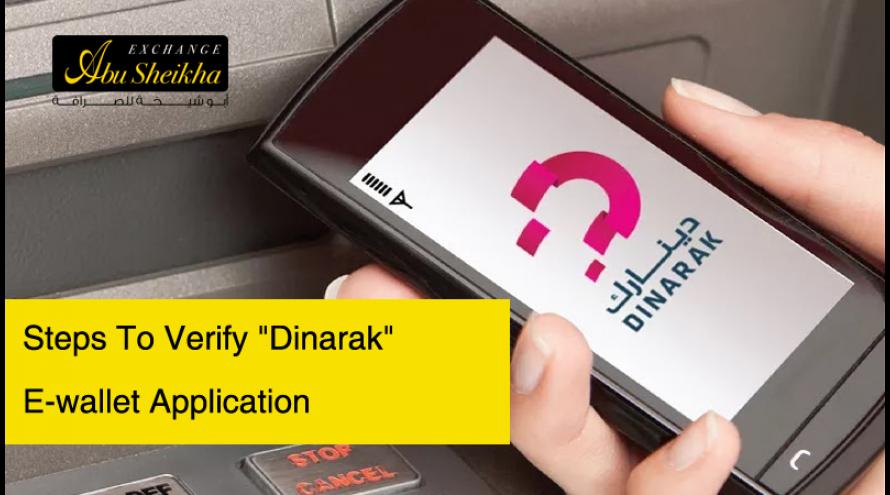 Have you ever gone shopping at a mall and while you're waiting to check out, you found out that you don't have enough cash?! How disappointing is that? All the fun you had shopping was taken away from you. 
We all have been through that. You never know how much money you'd spend while shopping and you can never guess the exact amount of money you should withdraw from the ATM machines. Plus, having cash in your purse or wallet is never convenient or safe; you are constantly subjected to having  money stolen from you.
Hence, many people in Jordan started to use the Dinarak e-wallet app that allows you to pay instantly and safely for goods and services. Dinarak saved numerous shopping experiences from being ruined by "insufficient cash".
In this article, we will tell you more about the application and the steps you need to follow to verify your account and enjoy limitless services that will make your life easier.
Dinarak Simply Defined
Dinarak is an e-wallet application that can be installed on your mobile phone to transfer money or pay for different goods and services with a  few clicks. You can use the application to virtually store your money and use it whenever you want.
The company was established in 2014 to be a payment services provider that helps people have a more convenient experience while transferring money and paying for goods.
What's good about the application is that anyone with a phone number provided by a Jordanian network provider, such as Orange, Zain, or Uminah can open an account. Even if you are non-Jordanian citizen, foreigner, or tourist you can still  open an account and use all the services.
Is It a Must to Have a Bank Account to Use Dinarak?
No, you do not need to have  a bank account to fully enjoy all the services provided by Dinarak,  all you need is a smart phone.  Also, the application can be installed on all types of phones that operate on a Jordanian  network. 
What Are the Steps Needed to Open & Verify a Dinarak Account?
Opening a Dinarak account can be easily and simply done in a few steps; all you need is your  smartphone and some legal documents. Dinarak also has many outlets and agents across Jordan that you can visit to open an account.
Follow the steps below to open and verify your Dinarak Account:
Visit any Dinarak outlet or agent 

You need to bring a deposit, your national ID card if you are Jordanian or your passport if you're non-Jordanian, and for refugees you need to bring your United Nations ID card.

The employee will give you a registration form to fill out  with the necessary data

Make sure  to carefully read the required information and terms and conditions before handing back the form 

After reading and filling out the form, you need to sign it and give it back to the employee

The employee will register your data into the system to allow you to open the account

Shortly after, you will receive an SMS with the activation code 

Use the code visible on your Dinarak application in order to activate your account

Enjoy limitless payment services 
How Much Should I Pay to Open a Dinarak Account?
You can open a Dinarak account completely free of charge as there are no extra charges applied. However, you need to deposit a minimum initial balance of 1 JOD.
What Are the Things I can Do with a Dinarak Account?
As we mentioned before, Dinarak is a mobile app that facilitates electronic payments. With a few clicks you can perform multiple  financial transactions easily and swiftly. Below are the key transactions you can enjoy while using the application:
Transfer money to other Dinarak accounts, so if you want to send money to anyone using Dinarak application, you can get this done instantly

You can pay your  bills and utilities through the integrated eFAWATEERCOM services

Pay for goods and purchases at physical stores

Shop online for goods and services and pay using Dinarak 

Top up your Dinarak account to make sure it has the sufficient money you need 

Check your current balance available easily

Deposit and withdraw from Abu Sheikha Exchange
How Can I Top up My Dinarak Account?
If you finish the added amount of money on your Dinarak account, you can consider the following steps to add funds and continue enjoying our services:
Visit any of Abu Sheikha Exchange branches

Provide the employee with your mobile phone number and the amount you want to deposit.

You will be provided with a deposit form, fill  the needed requirements and sign it

Give it back to the employee to complete the transaction and add the funds to your account

You will receive a confirmation SMS of the new added amount
 Visit the Nearest Branch
If you wish to open a Dinarak Account visit Abu Sheikha Exchange, all you have to do is visit Abu Sheikha exchange branches, and we will take care of all the procedures. You can find us in 17 different branches across Jordan! We are available all week, including weekends and holidays until midnight.
Having a Dinarak account can make your life easier and save you from many hassles. All you need to do is to open an account using  a smartphone that is connected to a Jordanian network, then you can enjoy many instant payment services with just a few clicks.