Money Transfer & Direct Deposits Are Not the Same Thing!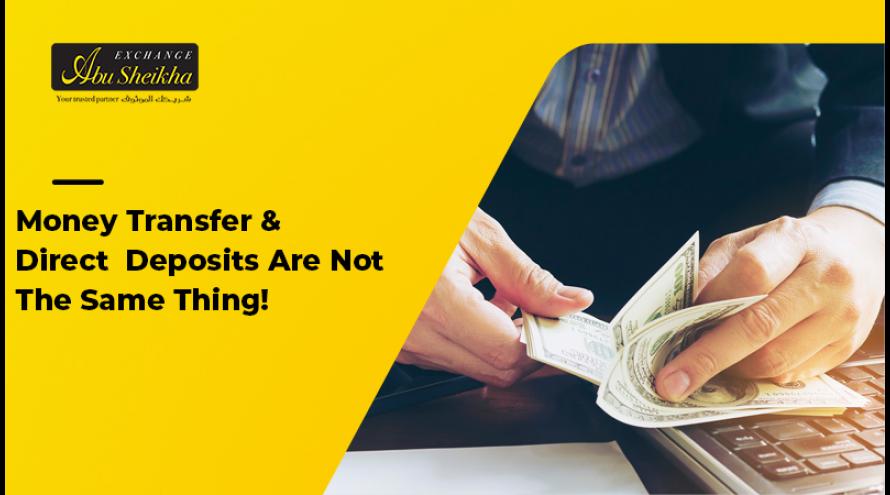 Although wire transfer and direct deposit are two ways to send money electronically, they are not the same thing. Today, sending money doesn't require you to carry the cash in your pocket and hand it personally to someone else.
Long gone are those days!
Now, money transfer goes through electronically at ease and comfort. So, it is worth understanding the difference between wire transfers and direct deposits and when each service is used.
Direct Deposit
It is an electronic money transfer method that is best used when you want to send your money directly into a bank account or receive your money in your bank account. It is environment-friendly and used by employers to save lots of costs spent on paperwork to pay their employees.
It also saves a lot of time visiting the bank to deposit checks manually, which increases the chances of having the checks lost or stolen.
Direct deposits are very useful if you are on a vacation or a business trip where you can't sit and write paper checks or you don't want to physically go to a bank or exchange house to receive your money.
If you are searching for the fastest and easiest way to send money to your employees, direct deposits come in handy. 
Money Transfers 
Similarly, wire transfers are used to send money electronically. But unlike direct deposits, such money transfers are paid out in cash.
One of the best advantages about wire transfers is that they are completed instantly in most cases. For example, using Western Union services will enable you to send and receive money within a few minutes.
The fees of using Western Union to send money might vary depending on the recipient's location and the amount of money to be sent.
 
Abu Sheikha Exchange: One-Stop Shop for Money Transfer Services
With Abu Sheikha Exchange, you can transfer money and send direct deposits at comfort. We aim at providing our customers with the best money services to make their payments easier.
We offer a wide range of services available to choose from:
Western union transfers: instant money transfers with the largest network across the world cash to cash + direct to bank account

Instant Local Outbound and inbound transfers

SWIFT Direct to bank account transfers worldwide
Global Outbound and inbound Transfers

Outbound and inbound remittances via Cash Express to United Arab Emirates

outbound remittances to Egypt: MISR Bank, ALEX Bank, and Cairo Bank (cash and direct to bank account)

TRANSFAST remittances
Abu Sheikha Exchange, Your Trusted Partner.