How to Pay Bills Electronically by Digital Wallets?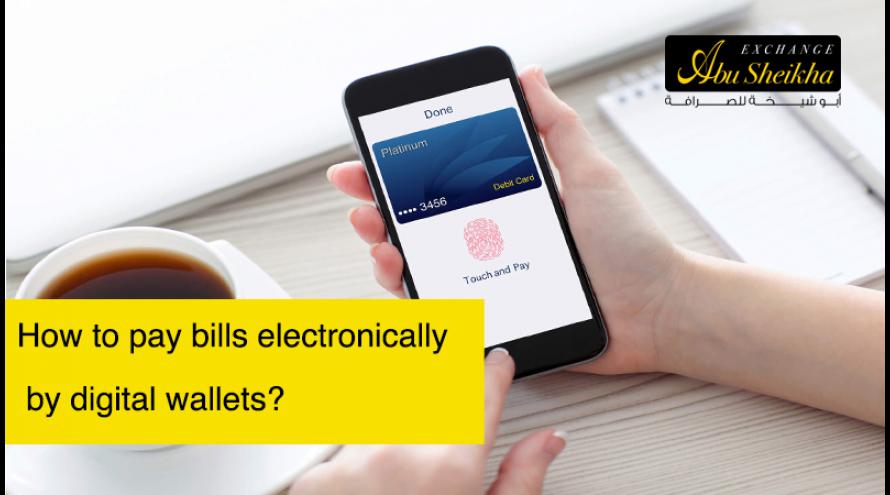 Paying the bills is a tiring errand that everyone needs to run regularly, whether paying for the rent, utility, internet fees, accommodation, insurance, and the list goes on and on.
The traditional way of paying the bills is no longer effective or practical in modern times. Now that we are living in the era of digitalization, the way we pay the bills is changing too to be more convenient for people. 
And here, digital wallets come in handy! They are reshaping the way we receive and pay for goods, services, and bills. 
In this article, we will explain to you everything you need to know about digital wallets; and how to pay bills electronically and easily.
What is a Digital Wallet?
Also known as an e-wallet, a digital wallet is a software system that stores your credit/debit card information to use to pay or purchase products and services on several websites and apps. Those wallets enable individuals and businesses to complete transactions electronically with only a few clicks.
Unlike the traditional wallets that are prone to be lost or forgotten somewhere unknown, digital wallets are safer and more convenient in our modern time.
How many times have you gone out to buy something and realized that you forgot your wallet at home? Plenty of times, right?
It can be very frustrating and might put you in embarrassing situations. 
How to Pay Your Bills Online with E-wallets
Firstly, you need to add your credit/debit card information to your digital wallet app on your smartphone. Then you will be able to pay for bills and goods through the following:
QR Code
Pay the bills by scanning QR Code by your phone camera and the digital wallet will detect the recipient's information. All you need to do is insert the needed amount of money and press enter.
Online
When shopping online, you can use your digital wallet to buy things. The credit /debit card info will be already stored, so you won't have to enter the same information every time you complete a transaction.
In-app
You can complete in-app purchases for rides, food delivery, or any other form of paid services.
3 Digital Wallet Types
Closed Wallet
This type of wallet is developed by a certain company to help its users pay for services/products specified for this company. The users of closed wallets can't use them to pay for other services/ products of other companies.
Semi-closed Wallet
The semi-closed wallets are used with a list of certain merchants specified by the issuer of the wallet.
Open Wallet
Open wallets are used to purchase from different locations and merchants with less limitation than semi-closed and closed wallets.
4 Key Advantages of E-wallets
You don't have to carry a physical wallet; all your transactions will be electronic

You can send money to friends, relatives, and family members anywhere around the world

Pay for transportation fares with few swipes

It is easy to register and use 
Are Digital Wallets Secured?
You can use digital wallets without any worry as they are developed with the highest security standards to prevent data leakage or fraudulent activities. Your inserted credit/debit card information is not shared with any online or offline entity and they are encrypted with an SSL connection to enhance their security. Further, all transactions need to be admitted from your side to be valid and completed.
To create a wallet account, you can visit any of Abusheikha's branches. Zain Cash, Orange Money, and Dinarak are all available at Abusheikha Exchange. For more information, call (06)5508081