How to Deposit Cash in ATMs?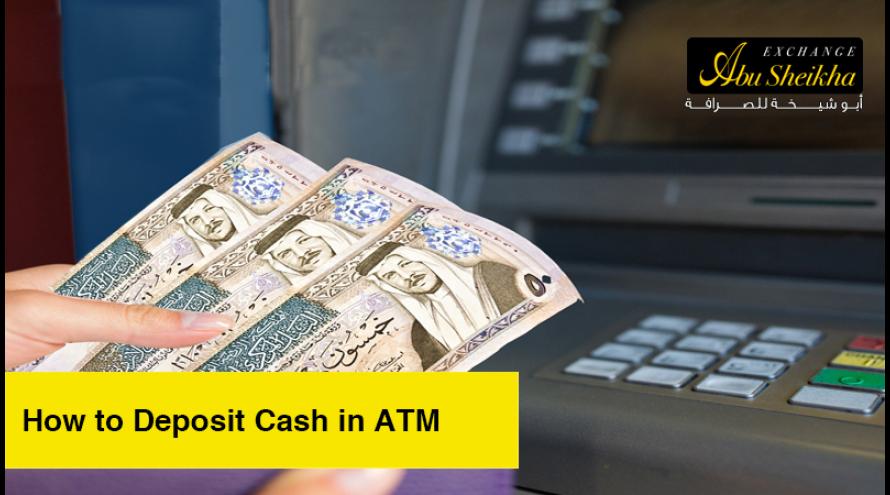 Deposit cash in ATMs is considered the easiest method to deposit funds without being obligated to visit banks in certain working hours. 
Now you can use ATMs that are available almost everywhere, all the time.
ATM Services
Through using ATMs you can complete many transactions, such as depositing cash to your bank account or someone else's account; in addition to paying your credit card fees, installments, or bills.
Also, you can check your balance, create or change your credit/debit card password, and issue a summary of your financial statement.
You can choose between Arabic or English language to use the ATMs easily.
Cash Deposit 
Depositing cash through ATMs helps you avoid waiting for so long in banks. Furthermore, you don't have to worry about the working hours because all you need is the nearest ATM with a cash deposit slot. It's important to know that some ATMs don't have this option and only allow clients to withdraw cash.
Cash depositing can be done in easy steps:
Depositing with Credit/Debit Card
If you want to deposit money into your account, you can use your credit card through any  ATM by following the next steps:
Put your card in the designated area

Choose your language

Insert your password

Click on the "cash deposit" service

Add cash into the designated slot which opens automatically

If some banknotes are written on or torn apart, the ATM will reject them

You can add alternative banknotes that are equivalent to the amount you wish

When the final amount appears on the ATM screen, confirm the transaction and wait to withdraw the receipt and credit/debit card
Depositing Without a Card
If you want to deposit cash into someone else's account without using a credit/debit card, you should use an ATM that is related to the bank they use.
Follow these simple instructions:
Choose "Cardless ATM Services"

Insert your language

Click on cash deposit or paying credit card fees services

Add credit/debit card's number

Check your banknotes and make sure they are undamaged

Insert cash in the designated area

The final amount will appear on the screen, confirm and receive your receipt
Some Tips before Using an ATM to Deposit Money 
Learn the following tips and instructions when depositing cash through ATM:
ATMs don't accept damaged credit/debit cards

Not all ATMs accept cash in foriegn currency

Not all ATMs have the "cash deposit" or "cardless deposit" services

The maximum deposit or withdrawal from ATMs is changing according to each bank

Each ATM can accept a certain amount of banknotes, some can accept up to 50 banknotes, while others accept 100 banknotes

Make sure that no one can see your password while inserting it

Keep the receipt until the amount is deposited successfully