How Can I Trust That My Money is Secure during Transfer?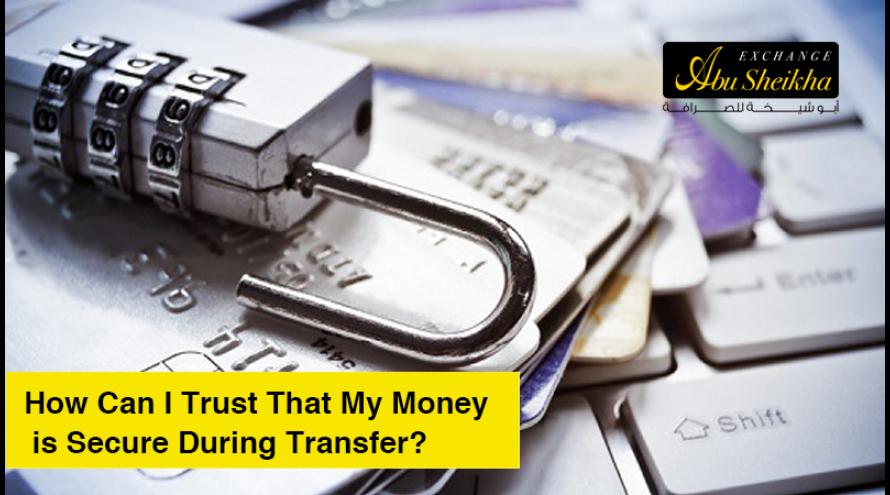 Customers who use money transfer services are always looking for services with the highest degree of safety to avoid becoming a victim of fraud or deception. In this article, we will try to answer the most frequent question asked by customers: How can I trust that my money is secure during transfer?
Deal with a Trusted Service Provider
Safety and security of money and personal information can be a major concern for customers who intend to use money transfer services frequently. Therefore, customers must choose money transfer companies which carry out strict security procedures and have a good reputation. 
If a customer intends to make financial transfers regularly, they have to start with a small experimental transaction at the beginning, in order to get an idea of the service quality and the security measures taken.
The time factor is always an essential criterion when it comes to choosing money transfer companies as customers prefer money to be transferred in minutes.
Know What Keeps Your Money Transfer Safe
There are many concerns among a wide range of customers regarding the confidentiality of their data and how they can maintain the highest levels of security when transferring their money. Also, there are many procedures in place to ensure that your money and information remain safe and sent to the required destination.
Customers often fear electronic scams, data breaches, and piracy that penetrate a network or any computer to steal customer data and information.
Here are some simple tips that you can take to secure your money transfer:
Verify the Sender
If you receive a suspicious and doubtful message from a colleague or a family member asking you to transfer money, you should check this with them before starting the transfer. 
Verify Electronic Platforms
Do not submit your personal information on an unsafe website or if you are suspicious about a website. Also, you should not respond to any email messages that prompt you to transfer money without verifying it and its source.
Learn How to Avoid Scams and Fraud 
The customer is likely to be exposed to a fraud, and with the diversification of technology, the methods of fraud and scams have become multiple. Usually when clients send their money to people they know, the transaction is completed without a problem. 
But transferring money to strangers is fraught with frequent risks, regardless of the company that the customer chooses to send their money. In order to  stop transactions that involve fraud and scams, verify the transfer before sending it in the first place.
 To avoid being a victim of fraud, consider the following tips:
Avoid Sending Money to Someone You Haven't Met Personally
If you feel that you have to send money to someone you have not met before, try to avoid sending large sums at once. 
Consider late payment options; the fraudster often says that you must transfer money by a certain date in order to benefit from what he/she offered to you.
Use a Reputable Money Transfer Services Provider
It is always a good idea to choose money transfer companies with a good reputation among customers, whether it is through banks or exchange institutions, because they verify data very accurately. For example, you are obliged to present your identity card to the employee, and to follow other security standards.
Don't Share Your Personal Financial Data with Other Persons
It is necessary to keep your financial data confidential, so that others do not burgle it. You can resort to the transfer companies that use the latest technologies and digitized services to transfer money securely, safely and in minutes without any fraudulent activities.
 
Abu Sheikha Exchange is one of the leading companies in Jordan. Click here to learn more about our money transfer services in Jordan.