Does Western Union Money Transfer Accept Checks?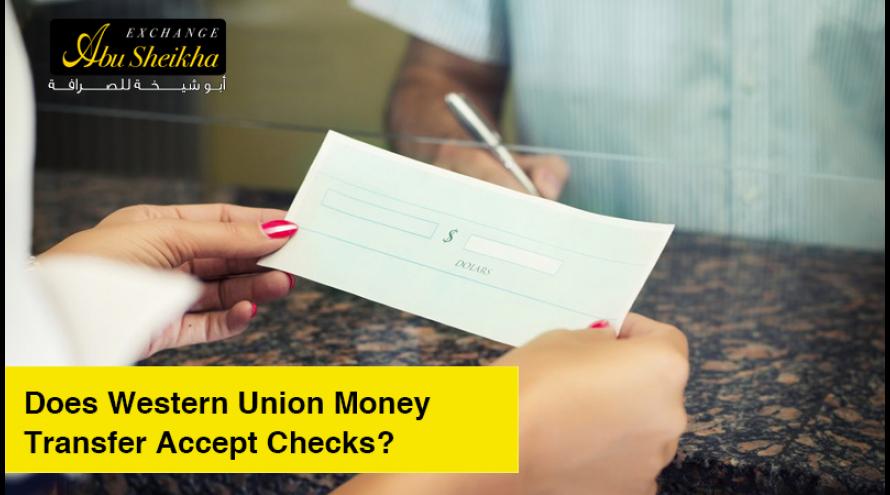 Western Union provides its financial services across almost 200 countries around the world through its branches and local agents. 
Many people prefer using Western Union due to its instant money transfer services. However, many ask if Western Union accepts checks.
If you have the same question, this article is for you.
Is it Possible to Transfer Money Using a Check?
The short answer is no. However, Western Union money transfer accepts cash only through its branches and local agents.
The company provides various transfer options, such as sending cash to individuals or bank accounts. Further, Western Union provides money transfer using almost every global currency, and it gains profit through currency exchange margin.
How to Use Western Union Money Transfer?  
You can transfer money in minutes through one of Abu Sheikha Exchange's branches 
Whether you want to use JOD or US dollar, Western Union supports most currencies, and the transfer will be completed in minutes.
If you want to send money in a different currency than JOD, we recommend you to visit the nearest Abu Sheikha Exchange branch and get it exchanged immediately with the best rate and most value.
You should have a valid ID, whether it is a national ID or a passport.
The money transfer will not be completed without knowing the primary data related to the person to whom it will be sent:
Country of receiver

Full name (which must match the name in ID or passport)

Phone number

Email address (if available)
If you are sending money directly to the bank account of the recipient, you should provide data such as:
Name of the bank

Bank address 

Name of recipient

Recipient's account number 

SWIFT number or IBAN 
As for recipients, they should know the MTCN code to be able to pick up the money. 
How to Avoid Fraud? 
There are some cases in which you may encounter fraud when transferring money through Western Union, so you have to pay attention to the following instructions: 
Personally confirm the person to whom you will transfer the funds to

Don't purchase items on anonymous website or social media accounts (only trust well-known e-commerce websites)

Don't send money to apply for an advertised job opportunity on the internet

If you are transferring money to a person who has been nominated by someone you know, you should ask them to send a copy of their identity card to use the data correctly