Common challenges to B2B Payments the ONE solution to overcome it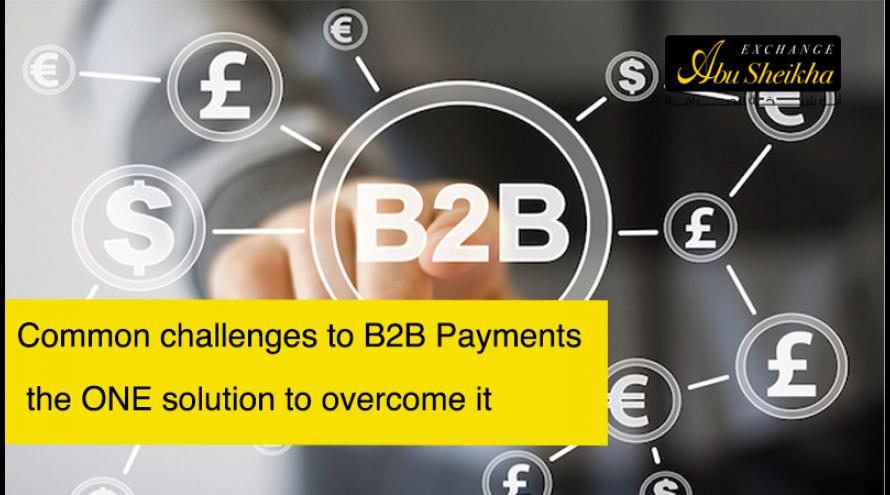 Running a business is difficult enough, especially when the payment time arrives. It is a very critical moment in the history of your company - you either make it or break it. B2B payment is nerve-racking; anything that goes out of hand might threaten your business growth and the relationship with your business partners.  
Although technology has been reshaping the B2B payment solutions and introducing advanced methods to make our lives easier, 64 percent of businesses still pay by check.
This is one challenge businesses face: the inconvenience of some payment methods. Not only this.
Traditional payments might be slow, inflexible, unreliable, and worse - expensive. 
Below, we will talk more about the most common challenges to B2B payments and how you can overcome them.
Lack of Security

 
Payment security is a top priority for all business owners and managers. Unlike consumer payments, B2B payments are sent in large sums. That's why you need to put your money into the hands of people you trust. And by people, we mean both your business partner as well as the money transfer company you deal with.
What are their security measurements? How do they send money? How long have they been operating? These are the questions you need to ask before trusting your money with a service provider.
Choosing a trusted money transfer services provider is a safe option to avoid such hassle. You will be asked to provide some documents, such as the commercial invoice, commercial registration,etc. to check that everything is official, legal, and secure. Also, you need to provide the company provider with the correct banking details, such as routing number, Swift code, IBAN, etc. 
Expensive Services
One of the goals any business owner needs to achieve is to maximize the profit and minimize the expenses. Each payment method, such as cash, checks, online, wire transfers, etc. becomes an additional cost to the business. Using expensive money transfer services can halt your attempts to increase revenue. But not all businesses are alike.
Large companies might endure such fees, but the small ones are more likely to suffer along the line. You need to assess the situation and find the best money partner with a fair service fee and excellent exchange rate.
Slow Transfer
Transferring B2B payments the traditional way takes more time than it should. To maintain your business relationship and growth, you need to make sure that all payments are sent on time. Depending on checks to process the money might not be your favorite option in such situations. You need a little help to speed up the B2B payment, such as using a trusted transfer company.
Inefficient Transparency

 
Working with a trusted financial partner can save you the trouble you might go through when working with unreliable money transfer providers. Trusted money partners succeed in earning this trust. Why? Because they pride themselves on working with transparency; they won't add extra fees without your knowledge. Everything is communicated in detail and you can return to them anytime to check certain transition details. 
Lack of After-sales Support
Not receiving proper customer support can negatively impact the bond between businesses and service providers. Sometimes, you need people to follow up with you and assure you that the payment is processed and delivered. Or if anything went wrong, you have access to professional customer support representatives to get it settled. 
At Abu Sheikha Exchange, we make sure that all transfers are processed and sent to the designated account. If anything occurs, we follow up and make sure the beneficiary has received the payment.
Abu Sheikha Exchange: Your Trusted Financial Partner
If you want to process all B2B payments stress-free, visit one of Abu Sheikha Exchange's 17 branches across Jordan and let us take over this mission. We've been providing excellent international money transfer services for more than 25 years. Not only this, but also we provide the following benefits:
Dynamic customer support to help you throughout the payment process

Fast money transfer anywhere in the world

Best exchange rate & value

Inexpensive service fees

Available all week until midnight (including weekends and holidays)

Trusted by hundreds of customers across the kingdom