3 Steps to Cancel a Money Transaction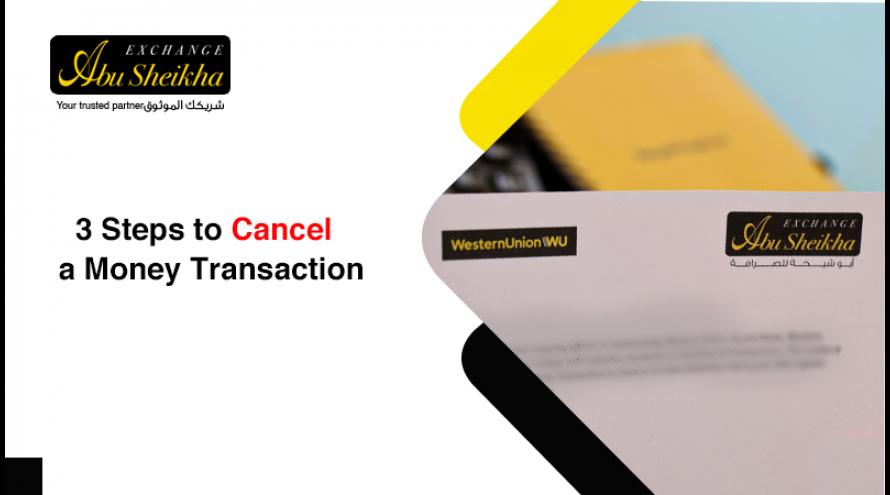 Have you ever found yourself in a situation where you need to cancel a money transfer transaction after it was successfully sent? Maybe you provided the wrong information or the receiver is no longer in need of the money.
It is very stressful, indeed, when you don't know how to do so or if there will be any deduction applied on you. 
In this article, we will provide 3 simple steps to help you cancel the money transfer transaction.
Determine why you need to cancel the transaction
Before Western Union starts the cancellation process, they will need to know the reason why you want to cancel the transaction. Hence, you have to prepare the needed information. 
Collect Your Transaction Details
First you should visit your western union agent that you initially have sent the transaction from. You need to provide all the information related to the transaction to Western Union, so that the employees can verify your identity and validate your transaction. 
The information you need to provide:
Explain the reason why you want to cancel the transaction

You will need to have your Money Transfer Control Number (MTCN)

Sender's name, address, destination, and the sent amount of money

The same ID card provided when you first sent the money transfer
Receive Your Refund
Once the cancellation request has been submitted, it will take up to 24 business hours for you to be able to receive the refund in cash.
Most refund requests are received on the same day. But if it is delayed for any reason you should expect it to be ready in a few working days.
Abu Sheikha Exchange: Your Professional Western Union Agent
Looking for the fastest and most convenient money transfer service? We, at Abu Sheikha Exchange, provide trusted money transfer services including Western Union.