3 Places to Exchange Currency Before You Travel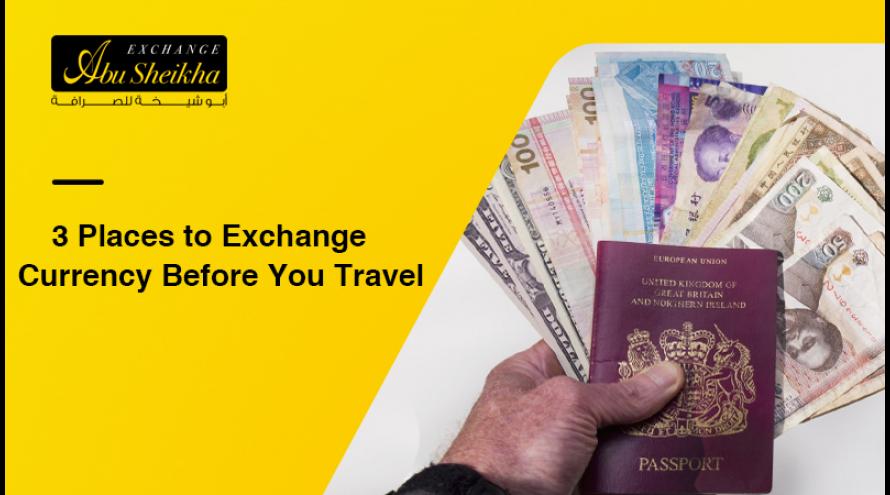 Planning to travel abroad and want to exchange currency before you leave? You have many options that you can choose between, but not all of them give you the value you deserve. As a general tip from all expert travelers, you shouldn't be considering airport kiosks because they are more likely to be the most expensive with little value provided.
So, if you are clueless of where to go to exchange currency before you start your next trip, it is going to be a mess.  No worries, we are here to guide you! Today, we will talk about the best places you can exchange currencies without paying huge fees.
Online Currency Converter Services
The converter rates are international rates, for final rates please visit your nearest abusheikha exchange branch.
First Thing First, Avoid Airport Kiosks
Wherever you go, you should know that the airport is the least favorite option to exchange money.
Even those who hang signs like "no commission" or "no exchange fees," those are only baits that some travelers fall for. The exchange rate given can be way higher than the one you can get from exchange houses in town.
You will find yourself paying more than you get because of the hidden fees applied on the exchange rates.
Exchange Currency Before You travel
If you still have time before you leave, it is better to exchange currency in your hometown. The best option you have are either your bank or exchange houses.
Many banks can provide you with good exchange currency rates, however, usually exchange houses offer a better exchange rate and their working hours are extended compared to bank. However, you should plan for this at least 7 days before your travelling time to avoid any delays in getting your money.
Depend on Your ATM When Abroad
Now that you have already travelled, you can use your bank's ATM to withdraw cash in the local currency with the best exchange rates in town. You can easily search on Google Maps for the nearest ATM machine related to your bank account and get the transaction done within seconds.
Abu Sheikha Exchange: Your Trusted Financial Partner Abroad
Searching for the best currency exchange service in Jordan? Abu Sheikha Exchange aims at providing the best exchange rate for customers across 17 branches.
Abu Sheikha Exchange..Your Trusted Partner!