Why You Should Avoid Money Transfers on Weekends?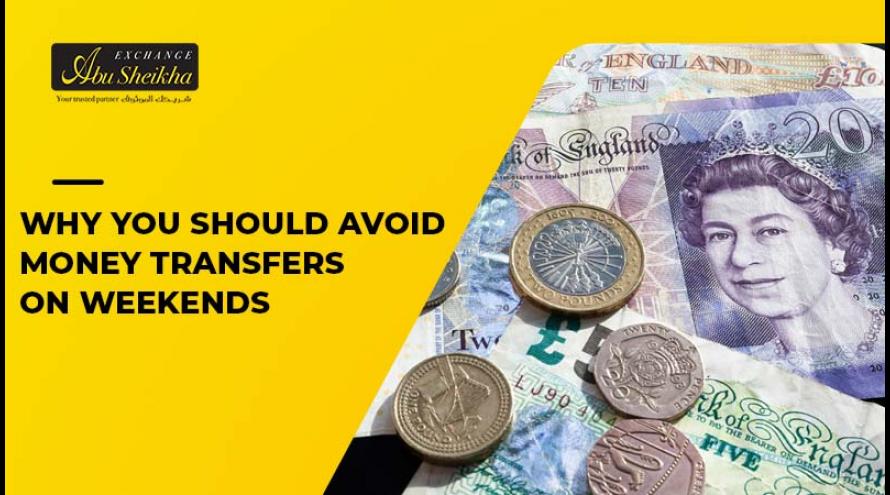 We sometimes find ourselves in need of transferring money in critical moments. Many situations can be mentioned regarding this, such as your son who studies abroad calling you at a Thursday night to ask for money, because he spent the last 100$ in attending a party. But it is Thursday night and the banks are off the next two days!
If you solely depend on banks, you might be facing a problem. But, in this article we will introduce you to other alternative that you can use to complete your transfer instantly.
 
So, Why Banks Can't Process Payments on Days off
Simply, the system used in most banks only processes requests once a day and this day is usually a business day. Plus, the system needs humans to operate it and all banks are usually off on the weekend.
Otherwise, the banks would have to hire more personnel to keep on running during the weekends, which is good for the public, but financially bad for the banks. It means more expenses for hiring, electricity, securities, papers, etc.
So if you deposited the money to be transferred on a Thursday night, you will have to wait until Sunday for the transfer to be initiated, and around other four working days for the recipient to receive the amount of money.
 
Why Do Banks Transfers Take So Long?
You might ask yourself now, if you transfer money during week days, will the recipient collect it instantaneously? The short answer is no.
Well, it depends on the amount of funds to be sent; however, it usually takes from 4 to 5 business days to complete a money transaction.
Although, when you buy your groceries, you only need to swipe your credit card to instantly pay for it. It is not the case when money transfers happen.
Banks make sure to slow down the process of money transfer to reduce the risk of fraud activities. It is called the "three-day good funds model," which means the banks holds the transactions for 3 days to make sure it is not fraudulent.
 
What Are the Steps Taken to Transfer Your Money?
Your bank sends a patch of transactions during the working day to an automated clearinghouse
The clearinghouse checks the transactions and their validity
Afterwards, it sends the transactions to the receiving bank
The recipient collects the amount from their bank
Plan Before Transferring Money
If you depend on your bank, it's recommended to plan ahead before sending away your money.
 We deliver to you the following advice to take into consideration:
Always plan ahead before sending away your money. In our example, let your son inform you before spending all his cash
Make sure you visit your bank early in the morning so the money will be sent to the clearinghouse at the same day
It is better to have the same bank account as the recipient because the transaction process is much easier and faster
If the transfer is really delayed, make sure you send a complain to the bank you are dealing with to understand the causes and try to fix them as soon as possible.
Abu Sheikha Exchange: Your Alternative to Send Money, Fast and Secure
If you want to send money in holidays and weekends, you can depend on Abu Sheikha Exchange because we work all week long until midnight. We are also able to get your money transferred in few minutes without the need to wait for days.
Abu Sheikha Exchange is a leading financial partner and one of Western Union's agent with 17 branches across Jordan, ready to serve you anytime you need.
Call us for more information: tel:+96265508081
Abu Sheikha Exchange, Your Trusted Partner.